Water can lead to extensive damage in your home. At ServiceMaster of Jackson and ServiceMaster Professional Cleaning of Paris, we know that quick action can make a difference. Our technicians are highly trained, licensed, and insured, and committed to servicing the community. We communicate every step of the way and work directly with insurance companies to minimize hassle.
Your home's structure and contents are both affected by water damage. It is vital that the restoration process begins immediately to prevent further damage and keep mold from growing. Our team is standing by 24-hours a day, and we act immediately to extract water and dry out your home to minimize overall damage and allow you to return to your home.
Our services include, but are not limited to: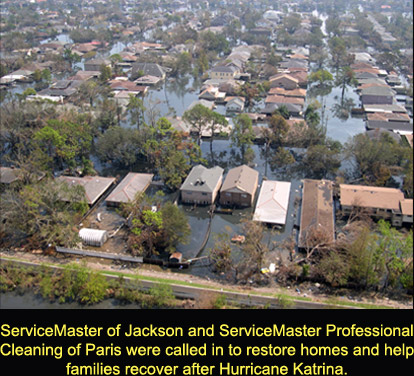 Water Damage Restoration
Drying, Dehumidification, Water Extraction
Document Drying and Recovery
Complete Building and Contents Cleaning
Carpet, Rug and Upholstery Cleaning
HVAC Duct Cleaning
Biohazard Cleaning
Some services may be subcontracted.
Water Damage Tips
In just a few hours after the initial disaster, mold and bacteria begin to grow, causing complications. For the best restoration and sanitization results, call ServiceMaster Clean® immediately. While you wait for the professionals, you can take steps to get the process started. Follow these tips to prepare for the restoration to begin:
What to do:
Act immediately to prevent additional damage and prevent mold growth. Call ServiceMaster of Jackson and ServiceMaster Professional Cleaning of Paris.
Mop up small quantities of water.
Move area rugs out of the affected space.
Curtains and drapery should be looped through a hanger and kept off the ground.
Place furniture legs on aluminum foil and wipe down damp furniture.
Prop cushions and pillows up to allow air flow.
Remove photos, artwork, and any small or delicate items from the affected rooms.
Leave books in place on bookshelves, but pack them together tightly so that the pages are kept straight, and have a book restoration expert properly care for these.
Open cabinets and drawers so air can flow around them.
Open doors for increased airflow throughout your home. Depending on the weather and humidity, opening the windows may be recommended, but it is best to consult a professional first.
What not to do:
Do not enter any space with standing water until the electricity has been shut off.
Do not attempt to extract water using a household vacuum; this is only possible with a wet/dry vac or professional equipment.
Do not remove tacked-down carpet or flooring without proper equipment.
Do not stand on wet flooring or in a wet area while using an electrical appliance.
Do not touch or attempt to remove visible mold, as this can lead to further spreading the mold if proper containment practices are not followed.