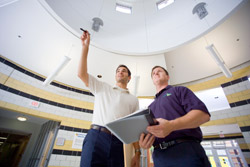 When remodeling your facility, it's important that you can continue with business as usual. Construction might be contained in one area, but air can travel freely throughout, carrying dust and particles from the construction site into occupied areas of your facilities. At ServiceMaster Professional Cleaning, we partner with the construction company to ensure that the air from the construction site is properly filtered and high air quality is maintained throughout your facility.
Each one of our powerful machines processes 2000 cubic feet of air every minute. Their multiple-stage HEPA filters scrub the air and eliminate 99.97% of particles down to .03 microns, including all mold spores and numerous other potentially harmful byproducts of the construction.
We are frequently called in to test and maintain the air quality for hospital expansions and other projects where the highest level of service is an absolute must. For clean air and the freedom to carry on with your business, even during construction, call on our team of experts.