Water can cause an overwhelming amount of damage to your commercial facility. At ServiceMaster Professional Cleaning, we offer full restoration and cleanup services to get your business back to normal. Our technicians are licensed and insured and will always communicate every single step of the way with you, keeping you informed and leaving no surprises.
After a fire, flood, or a burst pipe, water can destroy the contents of your business and leave the structure and foundation impaired. It is important to restore water damage quickly or else other problems may result, such as the rapid development of mold and bacteria. At ServiceMaster Professional Cleaning, we take direct action to relieve your property of moisture and immediately begin the drying process to minimize the overall amount of damage. We work efficiently and quickly in order to get your business running again.
Our services include, but are not limited to: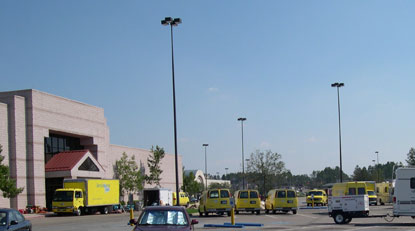 When Hurricane Katrina struck, ServiceMaster of Jackson and ServiceMaster Professional Cleaning were called on to restore commercial buildings and help businesses recover.
Water Damage Restoration
Drying, Dehumidification, Water Extraction
Document Drying and Recovery
Complete Building and Contents Cleaning
Carpet, Rug and Upholstery Cleaning
HVAC Duct Cleaning
Electronic Equipment Restoration
Data and Document Recovery
Furniture Refinishing
Biohazard Cleaning
Some services may be subcontracted.
Water Damage Tips
Water damage and bacteria growth can occur in just hours. To increase the chances of a successful restoration and sanitization call ServiceMaster Professional Cleaning immediately. While waiting for the professionals to arrive, we've provided a few tips you may be able to use.
What to do:
Water damage and bacteria growth can begin within hours. Call ServiceMaster Professional Cleaning immediately.
Remove as much water as possible by mopping and blotting.
Remove wet area rugs or other removable floor coverings. Do not attempt to start removing wall-to-wall carpet.
Lift draperies off the floor, loop through a coat hanger and place the hanger on the drapery rod.
Wipe furniture; prop up wet furniture cushions for even-drying and place aluminum foil under furniture legs.
Move photos, paintings and art objects to a safe, dry location.
Do not remove books from shelves. Rather, pack them tightly to prevent warping of pages until a restoration professional can begin this specialized drying.
Open drawers, closet and cabinet doors to enhance drying.
What not to do:
Do not enter a room with standing water until electricity has been turned off.
Do not use a regular household vacuum to remove water.
Do not lift tacked-down carpet without professional help.
Do not use electrical appliances while on wet carpet or flooring.
Do not disturb visible mold.
Commercial Water and Disaster Planning
CleanTrust/IICRC